Micro ring hair extensions have you wanted hair with more volume that gives you a natural look and improves your appearance simultaneously? Micro ring hair extensions enhance your appearance and allow you to achieve luscious long hair. They are mounted on strands of hair attached to hair extensions with a small metal ring.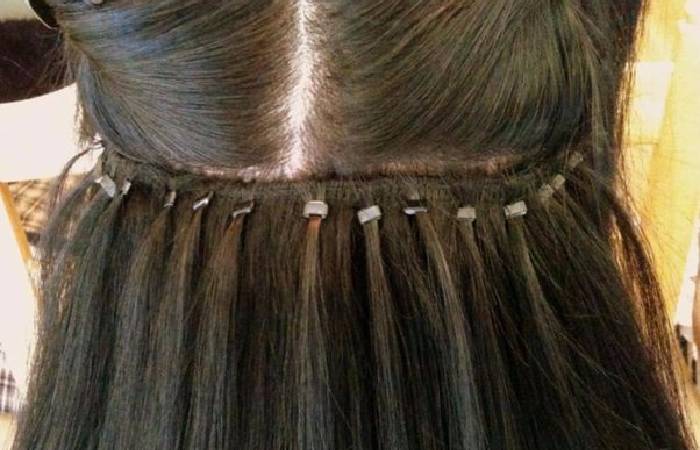 Also micro rings are popular with women because they can be pulled up and tightened every eight weeks. The micro ring removal procedure is quick and lasts between 30 minutes and an hour. It is best to have your extensions removed by a professional; indeed, there is a risk of pulling and damaging your natural hair.
However, if you can't wait for your next salon appointment, you can remove your extensions at home. Here are the tips to remove Micro Ring hair extensions safely by yourself:
Also Read: DEFINITION OF TAN SKIN TONE
When do you Take It Off?
The removal of micro rings depends on how your hair has grown and how you have taken care of it. Please remove your hair extensions after 3-4 months of installation, as the ties have already been attached to your hair. And draw them before your hair s
Talk to Your Hair Extensions Stylist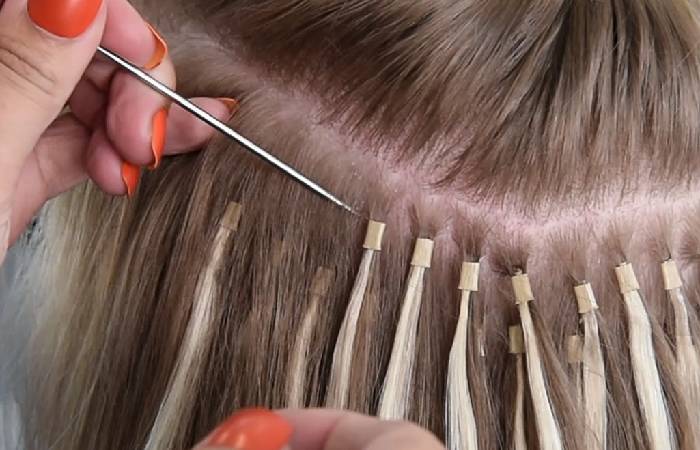 The removal of hair extensions is a specialist job. So before you remove your extensions, talk to the stylist who applied the micro rings. If they can't make an appointment, they will help you with tips on safely removing your micro-rings at home.
Also Read: THE HAIR HUT: A WOMAN CREATES A SMALL HAIR SALON ON WHEELS
The removal process for Micro Ring Hair Extensions sounds complicated, but it is pretty simple. It depends on how much effort you have put into maintaining your extensions over the months you have had them installed. To safely remove your hair extensions, make sure you have the following tools:
A tail comb
hair clips
hair extension clip
Step 1 – Part and Secure Your Natural Hair
Show off your hair extensions by clipping your natural hair on your head. Make sure you can see the top row of hair extensions.
Step 2 – Separate Your Hair Extension
Divide the hair extension into three parts. Also, it takes the side section from the back of the ear to the front on both sides. And leave the rear free and exposed to work with it.
Step 3: Remove the Rings
Use hair extension pliers to eliminate the rings. Hold the call and slowly squeeze in the opposite direction that they were closed. Try squeezing gently, then increase pressure if the ring doesn't open. Once the circle expands, it opens and releases the hair extension. If the hair extensions take been worn for over three months, a slight tug may be required to loosen them. So, hold your hair with one hand and pull the hair extension slightly.
Step 4 – Comb Your Hair
When looking at the strand without the ring, you will notice a buildup of hair and product residue. Don't worry; it is perfectly normal. However, it is essential to brush your hair gently with the tip of the comb so that you can easily clean it afterwards. Make sure only to grab a few strands simultaneously to avoid damage and discomfort.
Pro Tip: If you're having trouble brushing your hair, try using natural oil to loosen and lubricate your hair.
Micro ring hair extensions take over an hour to remove. Take your time, and remove it slowly and gently to avoid damage.
If you want to renew your hair extensions, keep them safe. Tie them with a hair tie and put them directly into a box or drawer. Wash your human hair extensions with a sulfate-free shampoo and soak them in a moisturizing conditioner before putting them back on.
Also Read: WHY DO SOME PEOPLE HAVE CURLY HAIR WHILE OTHERS HAVE STRAIGHT HAIR?