Summer Hairstyles – There is no doubt that this summer is going to be hot. While you can easily beat the heat by diving into a swimming pool or surfing the waves, you'll still need to find ways to stay cool on dry land. Your lengthy locks are the last thing you want to be sticking to your neck while you sweat. Fortunately, there are simple hairstyles that are breezy, easy and perfect for making you look your best no matter how high the temperatures rise.
Hairstyle 1: Tie Up a Topknot
When the temperatures soar, you'll see people wearing their ponytails higher. While a high pony is always a great look, top knots add an extra touch of style. Plus, this hairstyle is the perfect go-to when you don't have time to wash your hair.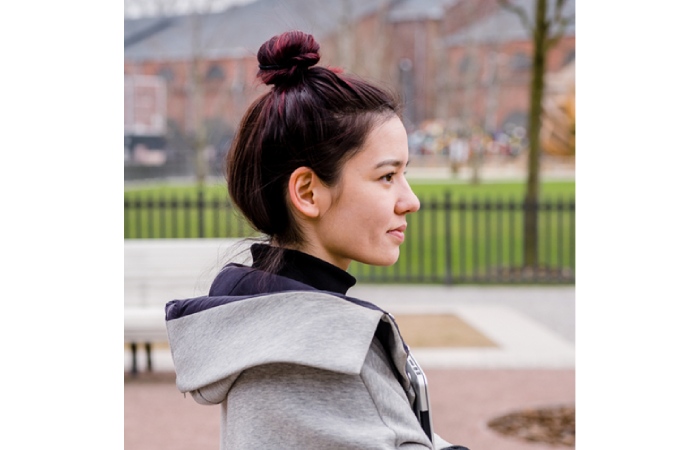 To make a top knot, pull your hair into a high ponytail first. You then wrap the pony around the hair tie. Finally, secure the bun in place with bobby pins to keep everything tidy. If you have shorter hair, you may be able to just tuck the ends of the pony under the hair tie. If you're worried that the front of your hair looks a bit oily, you can use some plastic-free dry shampoo. For a softer look, pull out a few side pieces and head out on your day's adventures.
Hairstyle 2: Keep It Low-key With a Low Bun
Depending on your plans, keeping it casual might be your main objective. Low buns are perfect for pulling your hair up on the go, or you can start your day off cooler by styling one at home. Follow the same directions as for the top knot, except make the ponytail near the nape of the neck. For an effortless look, keep your bun slightly loose. You can also tie a scarf around it and let the ends hang down for a whimsical look or pop on a ball cap to show off your sporty side.
Hairstyle 3: Look Upbeat With a Half-up Bun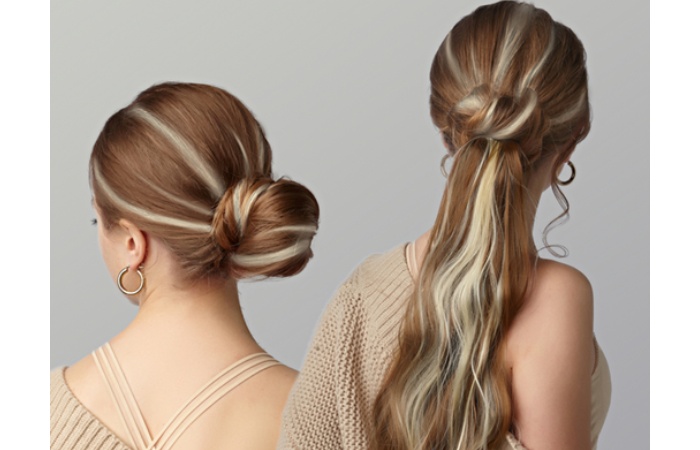 Half-up buns are perfect for those days when you don't know if you want to wear your hair up or down. Plus, they are ideal for hiding those front parts of your hair that get oilier faster on hot days. You'll create this hairstyle by only pulling the front part of your hair up into a topknot. Then, you can style the part left down with soft waves that will rival the ones at the beach.
Hairstyle 4: Make Your Hairstyle Pop With a Bubble Pony
The bubble pony is one of the best hairstyles for making a splash at summer parties, and it's super easy to pull off. After washing your hair with your favorite shampoo and conditioner set and blow drying, just pull your hair up into a ponytail.
Next, you'll use elastic hair ties to section off your hair all the way down. After you put in each hair tie, tease the hair between each set to create the bubble effect. You can leave your fluffy ponytail as is or add embellishments to each bubble for that extra pop of pizzazz.
Hairstyle 5: Wear a Fishtail Braid to the Beach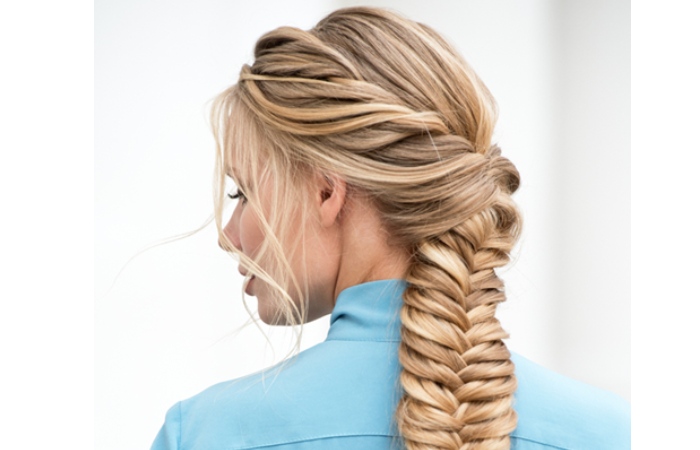 Fishtail braids can create one of the best styles to wear to the beach or lake. After all, they fit the theme, and they'll result in beautiful beach waves when you finally take your hair down for the day.
To avoid frizz and fly-away strands, use hair and body oil before pulling your hair into a low, side ponytail. Part the pony into two pieces: Take some hair from the outside of one section and put it on the inside of the other section. If you want it to look loose and messy, tug gently along the sides to give your braid a little fluff.
Hairstyle 6: Rule an Outdoor Festival With a Braided Crown
Braids are a mainstay at outdoor music festivals, and weaving yours into a crown keeps your hair out of your face as you dance to your favorite songs. One of the best things about braided crowns is that they look like you did a ton of work when you really didn't.
To create your crown, divide your hair in half and make a braid on each side that starts behind your ears. Then, wrap the braids around your head to make a crown and secure them with bobby pins. If you want to go all out with this style, weave some pretty ribbons into the braids before securing the bottoms.
Hairstyle 7: Create a Romantic Look With a Side Braid and Low Ponytail
Whether you're enjoying a picnic in the park with your date or prepping for your best friend's wedding, it helps to have a romantic hairstyle in mind for when you want to look your absolute best without breaking a sweat.
For a look that your special someone will notice, create a braid running down one side of your hair. Then, gather the braid into the rest of your hair and pull it into a low, side pony. Once the hair is spilling over your shoulder, use a curling iron to make a few flowing tendrils that give your look an extra touch of sweetness.
Have Fun Trying Out New Hairstyles This Summer
With summer heating up, you have many days ahead to experiment with new hairstyles that keep you cool and boost your confidence. Now, all you have to do is try out a few new hairdos to decide which ones you like best. Remember to pamper your hair after a long day at the beach. Keeping your hair clean and moisturized helps it stay healthy and strong all season long.